>
Home
>
Resources
National Conference
LIVE VIDEO PRESENTATIONS WILL BE POSTED RIGHT HERE STARTING ON JULY 8 @ 7PM#
ALL PREVIOUSLY AIRED PRESENTATIONS WILL BE LISTED BELOW
WEDNESDAY JULY 8, 2020 PRESENTATION
7pm "The 1888 Message - A Chance to End the Great Controversy" by Bob Hunsaker
THURSDAY JULY 9, 2020 PRESENTATIONS
8am "Agape: The Incarnation" by Bill Brace
9am "The Divine-Human Family" by Todd Guthrie
10:15am "Time to Receive the Hidden Half of the Gospel" by Paul Coneff
2pm "Faith of Jesus" by Brian Shwartz
3:15pm THURSDAY SEMINARS
"Time for the Judgment Message to Become Our Most Powerful Message" by Paul Coneff

"The 1888 Message In More Than a Nutshell" by Jerry Finneman

"Living to See Jesus: A Final Generation-Part 1" by Steven Grabiner

7pm "A Most Precious Cleansing" by Kelly Kinsley
FRIDAY JULY 10, 2020 PRESENTATIONS
8am "Agape: Close, but no..." by Bill Brace
9am "The Law & The Covenants" by Dee Casper
10:15am "The Cross of Christ" by Bob Hunsaker
2pm "Justification by Faith in Christ Alone" by Jerry Finneman
3:15pm FRIDAY SEMINARS
"Time to Integrate Discipleship and Doctrine" by Paul Coneff

"The Essence of the 1888 Message" by Jerry Finneman

"Living to See Jesus: A Final Generation-Part 2" by Steven Grabiner

7pm "There Should Be Time No Longer" by Ron Duffield
SABBATH JULY 11, 2020 PRESENTATIONS
8:30am "Agape: The Beauty of the Bride" by Bill Brace
9:30am "Winsome Witnesses: The Power of Personal Testimony"-Sabbath School Lesson by Lyndi Schwartz
10:40am "In Verity" by Dee Casper
3pm "The Art of Personal Evangelism" by Patti Guthrie
4:15pm "My Lord Delayeth His Coming" by Ron Duffield
7:30pm "The Hour of His Judgment" by Brian Schwartz
WE APOLOGIZE THAT THERE WILL BE NO CHILDREN'S PROGRAM THIS YEAR DUE TO THE COMPLICATIONS THAT WOULD ACCOMPANY COMPLIANCE TO THE COVID-19 REGULATIONS.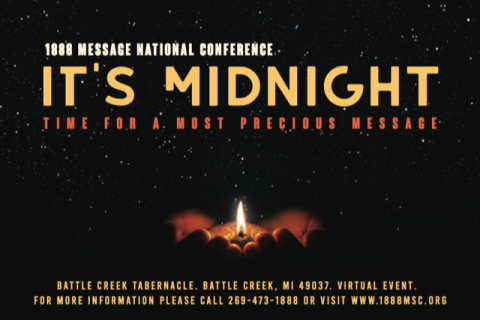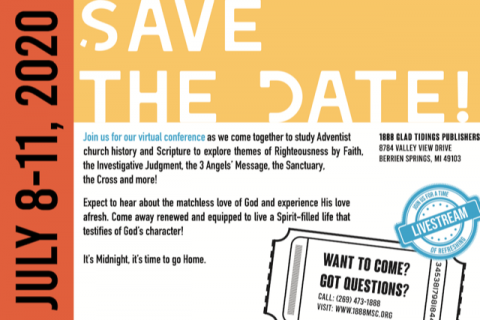 The National Conference is a time when souls who love God, who believe in Christ, and who eagerly grasp for every ray of light, will see light, and rejoice in the truth that we need to keep our eyes directed to Jesus, His merits, and His changeless love for all of us. All power is given into His hands. He dispenses rich gifts unto us and imparts the priceless gift of His own righteousness to us helpless humans. God commanded that this message be given to the world.
Expect to feel the Love of God in all of its beautiful power, hear about His matchless love, experience your faith and love increase, be renewed, refreshed and ready to continually live a life before people that testifies to God's living in you!!!
This conference promises to be exciting given the time in which we now live! May the Spirit of the Lord fill us up!!! O come, taste and see that the Lord is good!!!
... He who places himself where God can enlighten him, advances, as it were, from the partial obscurity of dawn to the full radiance of noonday. HP 75.6
CONFERENCE SCHEDULE TO BE POSTED.
PLEASE CHECK BACK FOR UPDATES as events change during the COVID-19 pandemic!